All Aboard the Train-Ship Adventure: From Copenhagen to Stockholm…
Imagine this: you're on a train journey from Copenhagen, Denmark, to Stockholm, Sweden, and suddenly, an announcement disrupts the quiet hum of the train cabin. What follows is an unexpected twist that turns an ordinary train ride into a delightful adventure. Here is my train-ship experience across the Jutland Peninsula, where land meets sea, and trains set sail.
Midway through my train journey, a multilingual announcement rang through the train, catching me by surprise. With a mix of confusion and curiosity, the announcement informed that we had to disembark the train. I shot a perplexed expression as I exchanged glances with my fellow passengers, wondering what was happening. Little did I know that a unique experience awaited just around the corner.
As I stepped off the train, I discovered the reason behind the unexpected halt. The railway route we were traveling on crossed the Jutland Peninsula, which separates the North Sea and the Baltic Sea. To continue our journey, the entire train was to be placed on a ship! Excitement was in the air as we watched the train slowly make its way onto the waiting vessel.
Stepping off the train, I found myself surrounded by an unexpected sight. Alongside the parked train, were cars, campers, and trucks, creating a fascinating amalgamation of transportation modes. Ascending the ship, I discovered a world of amenities. Shops, eateries, and spacious decks welcomed passengers to bask in the Scandinavian sun, feel the invigorating sea breeze, and revel in the novelty of sailing across the water—midway through a train ride!
The unexpected turn of events transformed a simple train journey into a memorable experience. With a beautiful day gracing the voyage, I embraced the opportunity to soak in the breathtaking views of the sea and coastline. From the ship's decks, I relished the enchanting blend of Scandinavian sun, sea, and wind, creating a picture-perfect backdrop for an impromptu adventure.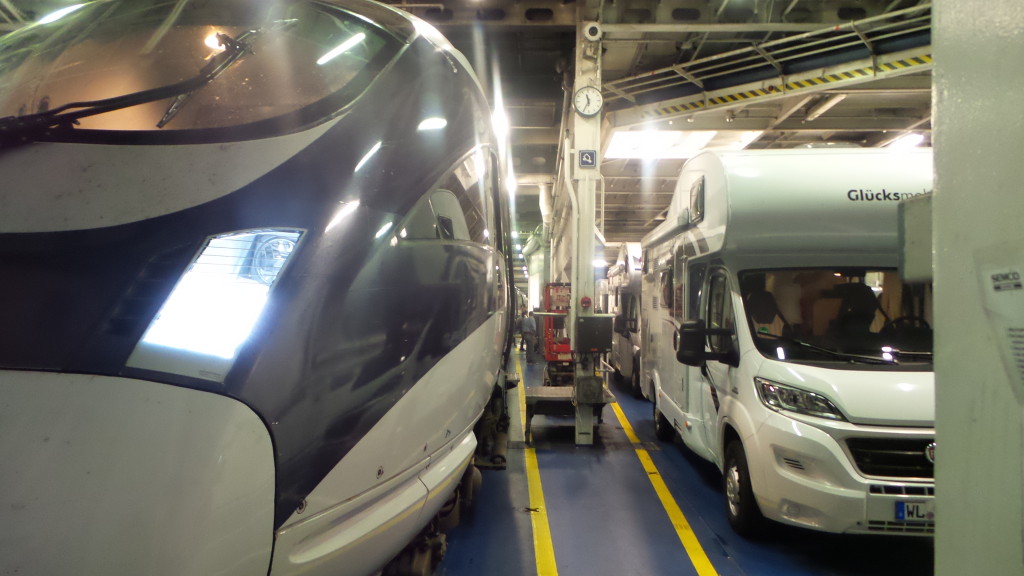 As the train-ship carried us across the Jutland Peninsula, we found ourselves enchanted by the serendipity of the moment. What started as a routine train journey became a playful interlude—a unique blend of transportation modes, unexpected encounters, and a touch of maritime magic. It's moments like these that remind me of the joy of travel, the delight in embracing the unknown, and the whimsical surprises that await around every corner.
Scroll down below the comment section (leave a comment if you like), to read the next post and discover the next adventure…