After bidding farewell to the picturesque Liechtenstein, I made my way back to Zurich before embarking on my next adventure to Luxembourg. The train ride was a feast for the eyes, with breathtaking views of the Swiss Alps and enchanting forests lining the shores, and I drank in mile after mile of immeasurable beauty.
My train made a stop in Basel, a charming city situated at the meeting point of Switzerland, France, and Germany. If you're heading to Germany or Switzerland, just stick to the platforms on the right side of the station. But if France is your destination, simply walk through the doors and voila! You're in France, ready to make your French connection.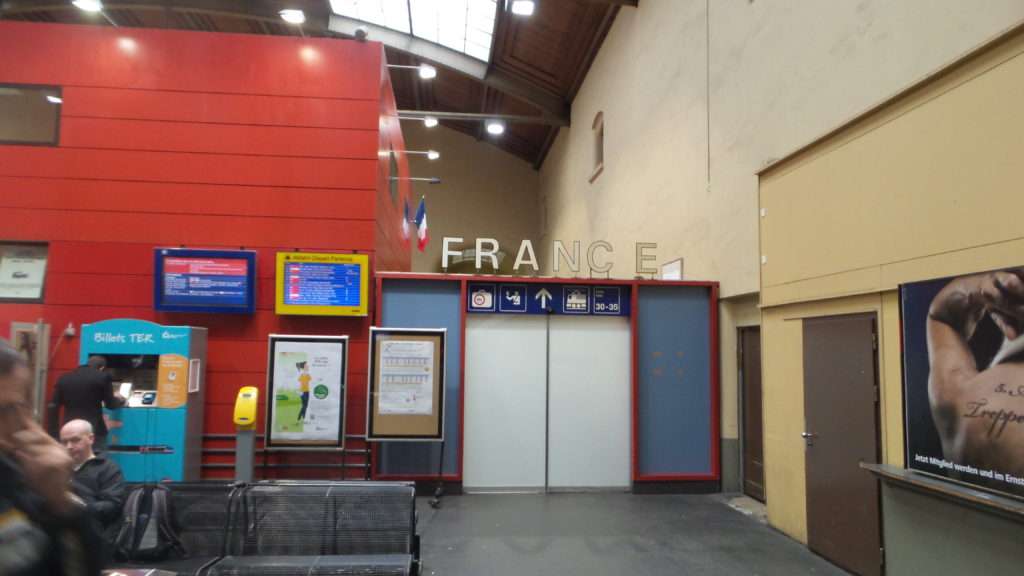 The journey continued, and I found myself zooming past jaw-dropping landscapes and immersing myself in unparalleled beauty. Finally, I arrived in Luxembourg in the late afternoon, completely open to whatever the city had in store for me. Little did I know, a twist of fate awaited me.
As I stepped out, I was immediately captivated by the ancient towering edifices perched on steep cliffs. The medieval designs and architecture left me in awe. However, I soon discovered that an international conference or symposium was in full swing, and finding accommodation seemed like an impossible task. The few available rooms were exorbitantly priced well beyond my budget at over €500 for just one night.
Undeterred, I made a decision. I bid Luxembourg a temporary farewell and boarded another train, venturing into the unknown. The misty weather required me to don my raincoat and shield my backpack. Stepping out of the minuscule train station, I was greeted by an empty street that stretched out like a void. A pang of uncertainty tugged at my gut, but I pressed on. I opted to exit the train at Gouvy, Belgium, just across Luxembourg's northernmost border.
As the locomotive left the station, I realized I was in a very small town. The misty weather required me to don my raincoat and shield my backpack. Stepping out of the minuscule train station, I was greeted by an empty street that stretched out like a void, similar to the one at the pit of my stomach as I found myself in a place where I knew no one, darkness was gathering, and nothing was like back home.
Soon, I spotted what appeared to be a bed and breakfast on Rue de la Gare. Through the mist and as the streetlights flickered on, I made my way towards L'Epicure, a cozy Belgian café with a sign indicating lodging. The lights were off, and a woman was just about to lock the old wooden front door. Desperate, I called out to her, using gestures to convey my need for a place to sleep.
Her eyes widened in understanding, and she quickly unlocked the door. Inside, we walked across creaky wooden floors and ascended a flight of stairs. A room awaited me with a fluffy spindle bed, handmade comforters, and antique furnishings. She handed me a skeleton key and bid me goodnight, leaving me to contemplate the day's events: two new countries, amazing scenery, and the freedom and simple beauty of travel that is inexplicable.
I had faced it alone. With no one and nothing to help me. There was no television or Wi-Fi available to distract me, but that was perfectly fine. I relished being the sole occupant of this quaint Belgian guesthouse, surrounded by history. I closed my eyes and sank into the cozy bed, feeling a sense of tranquility like an anchor sinking into the sea.
The next morning, I awoke to the sound of French radio wafting through the air. As I made the bed and prepared to leave, I descended the timeworn stairs and was greeted by an incredible sight. I had been sleeping right above a bustling bakery café, where three women had been hard at work since the early hours, crafting an assortment of mouthwatering delicacies.
Business professionals and blue-collar workers lined up to grab their daily treats on the go, while locals quietly savored their morning constitutional — a cup of Belgian coffee accompanied by a slice of strudel baked before dawn and served piping hot. The display was a feast for the senses, with raisin croques, various tourtes, bread galore, and a tempting array of fromage (fine French cheeses.)
The café's cheerful staff greeted me with a warm "Bonjour" and set up a table just for me in a private area off of the main café floor. I tucked into a breakfast feast of coffee, fresh bread, yogurt, juice, meats, cheeses, and delectable homemade jams and jellies. Bon appétit indeed!
Filled with energy and excitement, I packed up my backpack, settled my bill with the owner, and set off once again to explore the wonders of our world. The day held endless possibilities, and I had no idea who I would meet or what adventures lay ahead. Ready or not, here I go!
Scroll down below the comment section (leave a comment if you like), to read the next post and discover the next adventure…